Edited by Harry Russell and Issy Smith
After all the stress of Summer term and exam season, sometimes it can be for the best to have comfort media to fall back on. Here the Reel Talk Editorial Team share some of their favourite films and TV shows that they put on to unwind and relax.
FILM
Luke Brown on The Iron Giant (1999)
The Iron Giant (1999) is a film that made my childhood. My original DVD copy is so worn now I'm not even sure it still plays, but I've held onto it because of just how wonderful the film itself is. An animated film from the late nineties, starring Vin Diesel and Jennifer Aniston, directed by Brad Bird (who went on to direct both The Incredibles movies, Ratatouille and Mission Impossible: Ghost Protocol), just these factors alone should be enough to draw in a crowd. The film's narrative is somewhat a spoof on classic American Sci-Fi, centring around a giant killer robot who crashes onto our planet. Its programming is damaged in the fall to earth, leaving it with a large dent in its head, causing it to have the mentality of a child. Throughout the film we see the Iron Giant forming a bond with a young boy, who teaches him that he can be anything he wants, and doesn't have to kill anything.
While a relatively simple moral message, the film portrays it in an overwhelmingly heart-warming way, contrasting the world of aggressive adulthood with the innocence of childhood, and the end leaves me in tears every time I re-watch it. From the fantastic story (adapted from the 1968 novel The Iron Man) and the stellar cast, to the wonderful animation, The Iron Giant is a brilliant directorial debut for Brad Bird, and some of the most fun you can have with any film. The Iron Giant will have you on the verge of tears, beaming from ear to ear, and ultimately leave you feeling incredibly warm and fuzzy, and that's why it's easily my favourite comfort film.
Ben Barnett on The Lego Movie (2014)
My comfort film is The Lego Movie (2014), which I recently re-watched to sweep away some of those exam blues. It might be a strange choice for some people, but I think watching a film aimed at people of all ages is the perfect way to relax. What I love about it is its message of creativity and joy, and how it always seems to lift my spirits when I'm at a creative blockade, reminding me that I can make anything I want to make, even if it isn't seen as "good art". The idea of a father and son being brought together through Lego is also sweet and reminds me of how my dad and I would play with Lego when I was a kid, so it's a good film to watch if I feel homesick.
The film is also an amazing feat of animation if we are going to get technical. Each individual Lego brick is textured with scratches and marks to make it look more like real Lego, and each brick moves exactly how Lego would. Smoke, lava, and water are all made up of thousands of Lego pieces. Just witnessing that level of detail is slightly mind-boggling.
Another important reason this film is my comfort movie is the comedy. When I first saw it, I thought it would be average in terms of humour, but a lot of it still holds up after several viewings. There are moments that take you by surprise, as well as visual jokes you might miss on a first, second, or even third viewing and the hilarious use of specific brands (e.g. Batman, Star Wars, etc) to poke fun at the studio's other projects. Overall, The Lego Movie is a great film to de-stress with, unless you don't like Lego, of course.
TV
Ross Harrison on The Flight Attendant (HBO Max, 2020-)
HBO Max's The Flight Attendant (2020-), starring Kaley Cuoco in the title role, combines dark humour with a gripping murder mystery narrative to make for a compelling watch. During exam season, this show was a great relief and, frankly, provided some much-needed escapism. Cuoco nails the role of an alcoholic air hostess who becomes entangled in a gruesome murder whilst on a layover in Bangkok and the performances in supporting roles (such as Zosia Mamet and Rosie Perez) are also pitch-perfect in their reinforcement of the plot and gags. 
The series uses a non-linear narrative to provide a growing insight into the events of one evening across eight episodes and held my attention throughout, achieving what few shows have managed in recent years: instilling a desire to continue on and on. The use of narrative twists and the wider involvement of peripheral characters prove that nothing is what it appears to be.
Amidst revision sessions and reading, The Flight Attendant provided laughs, gasps and a distraction from the anxiety of exam season – all of which seem in short supply as of late. With the second season having landed on NOW TV on the 26th of May, I look forward to seeing what's to come for our airborne calamity-magnet.
Tijen Mustafa on Malcolm in the Middle (Fox, 2000-2006)
One of my all-time favourite TV sitcoms has to be Malcolm in the Middle (2000-2006). Premiering in 2000 and ending in 2006, it has understandably flown under the radar for most people my age, so I'm always eager to recommend it to whoever asks for a comfort show.
We follow Malcolm (Frankie Muniz) – who frequently breaks the fourth wall to tell us how disastrous his life is – as he navigates his way around his hysterical family. With three other brothers, a clueless father and a raving mother, the antics this family gets up to are sure not to disappoint.
Long before he strapped on his pork pie hat to play the iconic Walter White, Bryan Cranston was proving himself to be one of the greatest TV comic actors of the noughties. No other actress could play his on-screen wife (Jane Kaczmarek) better, and the ensemble cast never fails to be hilarious.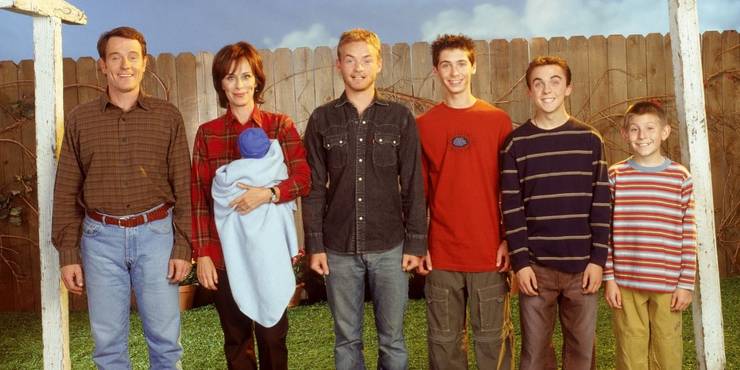 Though you might think the show is pure chaos, it definitely has its heart-warming moments (albeit, always punctuated with absurdity). Each character has their own memorable episode – like Lois, who avenges her son after he is humiliated by a group of girls at school (which includes a young Emma Stone crying her heart out when all her beheaded dolls fall out of her locker). And Hal, who, upon trying to teach his son how to roller skate, performs a fabulous roller skate routine to Queen's We Are The Champions in a head-to-toe blue sequined onesie. And we haven't even begun to mention what Francis (Christopher Masterson), their eldest, gets up to in military school – I mean Alaska – I mean New Mexico! 
If you need a comfort show, I highly recommend this one, it's sure to keep you entertained and, of course, satisfies the criteria of being very bingeable. Hope you enjoy!
Nikki Wilks on Heartstopper (Netflix, 2020-)
Scrolling through Twitter over the Easter break I was greeted with excitement and anticipation regarding a new series coming to Netflix: Heartstopper (2020-). The show was adapted from the British graphic novel series, written and illustrated by Alice Oseman and follows two boys who meet at school, one openly gay and the other coming to terms with his sexuality, and the relationship that follows.
I must admit I did read the first graphic novel in the series at the beginning of 2022 and wasn't overly impressed. Sure, it was a sweet story about a high school romance, but I felt it was simple and the characters weren't given much depth, so I didn't read any of the other instalments in the series. However, following all the social media hype, I decided to give the Netflix adaptation a go. And I'm so happy I did.
The series is composed of eight episodes, each only 25 minutes (approx.) in length. This makes it the perfect comfort watch after a day of working. The show seemed to bring with it the best parts of the first book and while adding the depth that felt like it was missing. Although at times it can feel cheesy, there is a charm to Heartstopper which makes it unique from any other depiction of a teen romance that I've witnessed on screen. 
From its depiction of British youth culture to its effortless representation, Heartstopper is a blissfully innocent modern take on the bildungsroman. I implore everyone to watch this show, you will not be disappointed.
---
And there we have it, the comfort film and TV of Reel Talk to perhaps help you to unwind towards the end of the stressful exam season. Do you have any particular films or shows that you'd like to talk about? Get in touch with your year representative to see how you can contribute to the blog!